Welcome to Buckeye Acres!!
Buckeye Acres is a family run farm operation that has been in business since 1982. We pride ourselves on providing our customers with high quality farm fresh produce. You can purchase produce on farm year-round or find us seasonally at the Farmers Market in Warrensburg.
• • • • • • • • • • • • • • • • • • • • • • • • • • • • • • • • • • • • • • • • • • • • • • • • • • • • • • • • • • • • • • • • • • • • • • • • • • • • •
Current News
Pumpkin Patch Sept 24 - Oct 30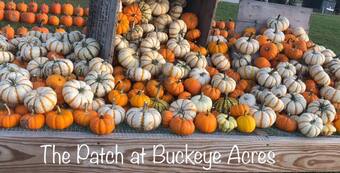 ​It's been 40 years since we first opened in 1982, and while the heart of the patch will always be family, community and FUN, we are planning some exciting changes this year.
​Yes, we DO evening private events at the patch! Generally, these are planned for 6pm - 8pm, giving our day guests time to finish up and our staff time to change over to party set-up. If you would like more information or inquire about a specific date, please reach out to
Heather@buckeye-acres.com
Yes, we DO offer daytime field trips for schools / home school groups and more! We offer both half-day and full (school) day length curriculums for preschool and elementary age groups, with modifications available to meet your group's specific needs. For more information, contact Heather at
Heather@buckeye-acres.com


Hours and activities during the Pumpkin Patch:
Mondays: Closed for field trips / private events
Tuesdays: 2pm - 6pm - FARM STORE ONLY, no Patch activities.
Wednesday: 2pm - 6pm - Wacky Wednesdays offer reduced admission but full access to the Pumpkin Park, the farm animals and our food stand with fresh donuts, apple cider floats and more. No hayrides or apple cider demonstrations (but fresh-pressed available in store or food stand).
Thursdays: Closed for field trips / private events
Friday: 1pm - 6pm - Pumpkin Patch!
Saturday: 10am - 5pm - Pumpkin Patch!
Sunday: 1pm - 5pm - Pumpkin Patch!
See complete details about weekend food trucks, entertainment and special guests on our
Facebook events page
or our
Pumpkin Patch site, here.
U-Pick Fruits - 2022
Blackberries: As of Aug 1, our blackberry season is officially over for 2022. Thank you to everyone who came out and picked or purchased pre-picked berries during the season!

Cherries: Our normal tart cherry season is a week in mid-June, but spring weather was not favorable for cherry production, so there are no cherries to be had this year. (Teresa is happy she won't be having to pit any, though!)
2022 U-Pick Strawberry Season
Thank you to everyone who came out to pick strawberries this season! Mother Nature didn't cooperate to give us a lot of u-pick days, but the crowds and interest on the days we did have was overwhelming. We appreciate each and every one of you and wish we could offer unlimited berries for everyone!

New CSA Format Starting Spring 2022
​CSA Signs Ups Open NOW!
Dear New & Returning CSA Members –

As many of you know, we have been brainstorming ways to improve our CSA program to benefit our members, as well as our farm. After many hours of discussion and contemplation, we have decided on a new format that we think will be a great change. Check out our new CSA Membership Program below.

Your CSA membership will be in the form of a pre-paid, CSA-only membership gift card to use for "purchases" at the farm store.

You will have the option of CSA membership funds in the amounts of $200, $300 or $400 or a higher amount if you choose. This amount, plus a bonus additional 10% (a gift from us as valued CSA members), will be loaded onto a gift card once payment is received. Then, you will be able to use these membership funds to shop at the store at your convenience (not just Tuesdays) and purchase ANY food item that you'd like. Rather than being limited to items we have harvested enough shares of, you can choose from our complete assortment of produce, meat, cheese, etc.

We know that some items in the CSA program are not something everyone enjoys eating or feel they will use, so this new system will allow you to pick up the items you want and in the quantities that you would like. This will also give you a wider variety of items to choose from. Oftentimes, we haven't had quite enough of an item to be able to include it in the CSA because we want to ensure we have it for everyone (since we don't know what your personal preferences are). When that is the case, we are not able to include it and it's only been available for additional purchase. However, with this new set up, every food item we have available in the store (produce, fruits, meats, cheese, honey) will be a CSA item!

We also may have "membership only" pricing on some items when we are reaping a bounty of them (think sweet corn, green beans, tomatoes) and you will be able to purchase them at a lower cost than retail price. Again, just another benefit of being a CSA member.

You can shop weekly, bi-weekly, or every day the store is open. That option is up to you! With this option, the CSA will start as soon as you purchase your CSA Membership Funds and you will have through September 30th to utilize the funds you've purchased for the summer CSA. (However please note that your funds do not expire and if you have funds left after September 30th you will be able to use them. We will just open up another Fall CSA option for others to join as well.) And, if you find you've used up your funds before the end of the season and you want to pre-purchase additional funds, we can do that as well. We have so much flexibility with this system.

While this is different than how we have done it in the past, we hope this will be beneficial to not only us, but you as well. The pre-purchase of funds will still allow us the early season capital to continue to purchase seeds needed to grow the produce, but this option will allow you, the customer, the freedom to select what you want when you want it. This will also allow us to be a little more flexible in what we can plant and the quantities that we plant in hopes of giving our customers an even better selection of produce to choose from.

This system allows our CSA to start earlier, meaning you can get in on asparagus, those early season greens and more 😊.

If you have questions, please let us know and we will do our best to answer. We hope you are willing to jump on board with us as we continue with this new system.

To sign up - Click the Link below, fill out the form and return to us with payment. We can't wait for you to join us!
Save those jelly jars! (Please)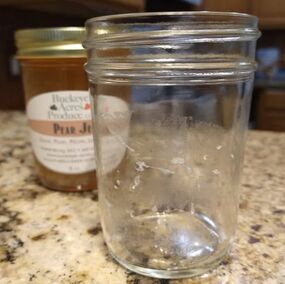 Yes, we can sterilize and reuse jars (lids can only be used one time, unfortunately.)

Jars are one of the main expenses in selling our jams & jellies, as a matter of fact, so we LOVE getting returned jars! Jars, lids & labels can be as much as 50% the sell price of our jams & jellies.

Grandma has a freezer full of fruit and will be making jam & jelly this winter and will happily take all your empty jars back.


---
Now Accepting SNAP / EBT Payments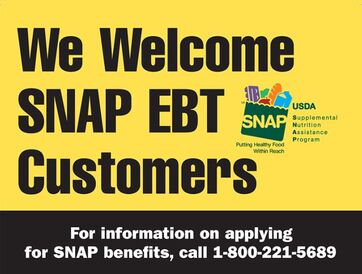 As of May, 2021, we are now able to accept SNAP EBT payments for eligible products at our farm store location.

Our store is open year-round with our farm-raised meats (beef, chicken & pork), small-batch jams & jellies, Hemme Brothers cheese curds & cheddar cheeses, local raw honey and more.
Our ever-changing selection of seasonal produce is also eligible, including our u-pick fruits.

At this time, we can only accept SNAP benefits at the store, not at the downtown Farmer's Market or via our online store.
---
Buy online or Shop In Store
Tuesday: 2pm - 6 pm
Friday: 2pm - 6pm


Online shopping now available!Shop online for our farm fresh produce, meats and other made in Missouri grocery items. Pick-up curbside or in-store.


We offer farm-raised meats and vegetables, as well as locally sourced cheese, honey, goat milk soaps, baked goods and more.

We want to say a big THANK YOU to all our customers this year. Your support of our small family farm is vital to its success and we so appreciate each of you.
---
Farm Happenings & Information!

Current Hours
Tuesday: 2 pm - 6pm
Friday: 2pm - 6pm
Order Online at: https://buckeye-acres-produce-llc.square.site/

Orders placed online and scheduled for pick up during normal business hours.

Stop by and pick up a great selection of fresh veggies & more!
At the store you can find:
​

Farm-fresh Produce
​Homegrown beef, chicken & pork
Locally made cheese curds and cheddar cheeses in a variety of flavors
Homemade gourmet jams and jellies
Raw local honey​
Dip & soup mixes
Hand-made goat milk soaps
One of a kind home decor​
Much more

​
As always if you have any questions, feel free to give us a call at 660-747-7760!

Farmers Market News

Warrensburg Farmers' Market 2022:
Opening Day - May 7
​8 am - Noon around the downtown Courthouse


Currently Harvesting Summer 2022:

Cucumbers
​Onions
​Peppers - Bells, Jalapenos, Poblanos, Sweet Snacking Peppers
Tomatoes
Yellow Squash / Summer Squash
Zucchini


Want to pick up some Buckeye Acres Fresh Produce???
Here's where you can find us:
On Farm Store: Tuesday & Friday: 2pm - 6pm
Warrensburg Farmers Market: Saturday: 8 am - Noon